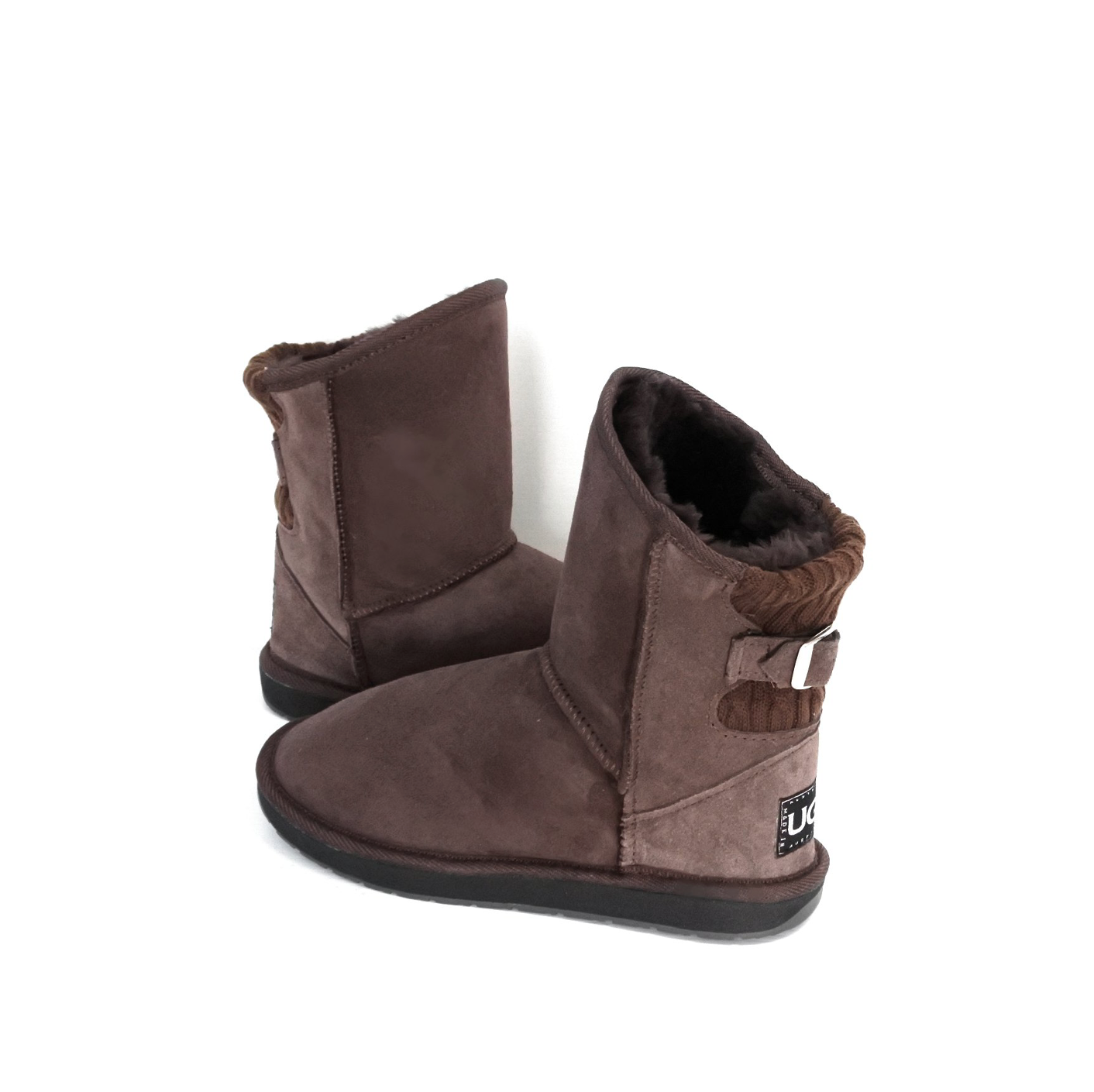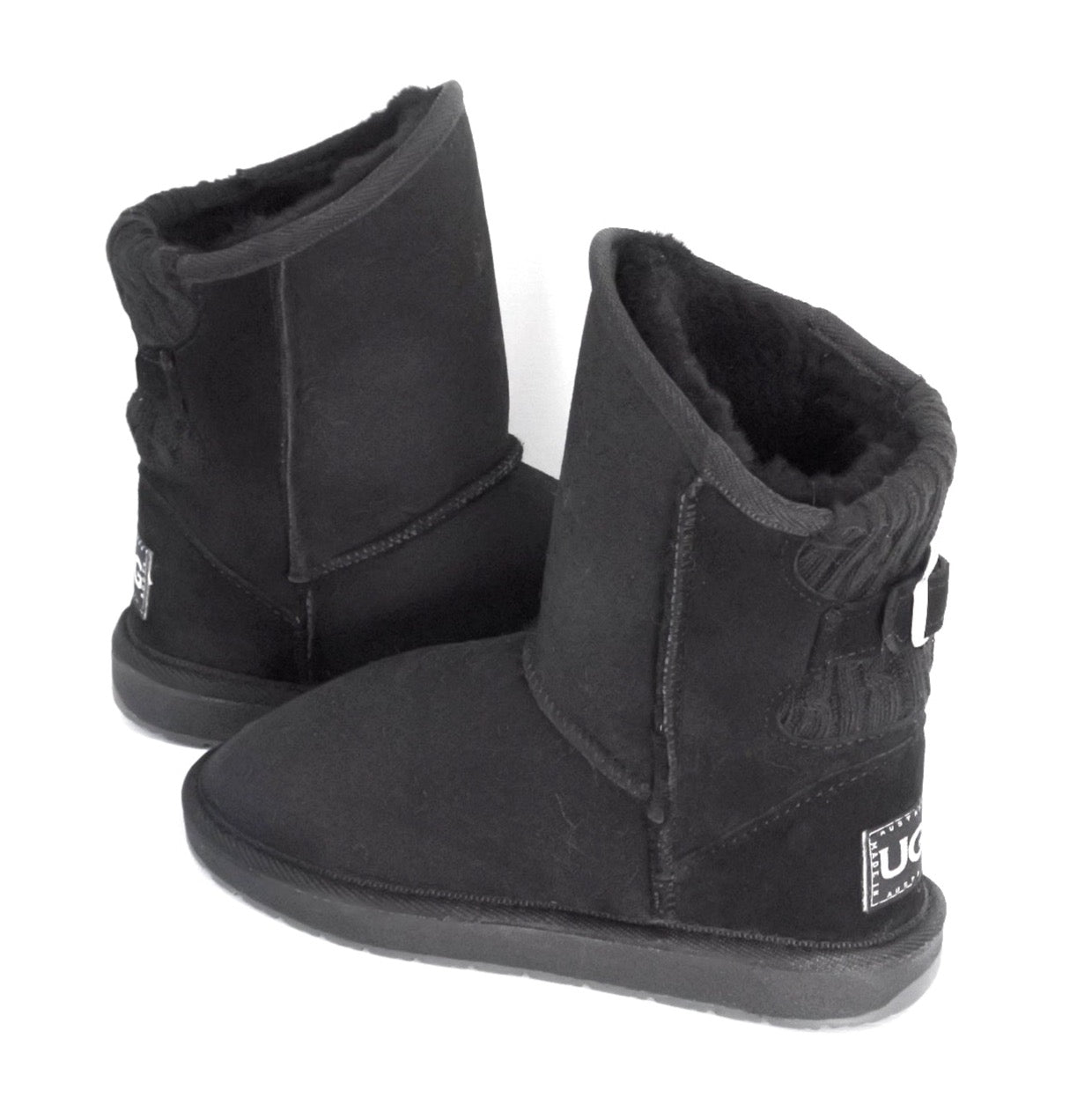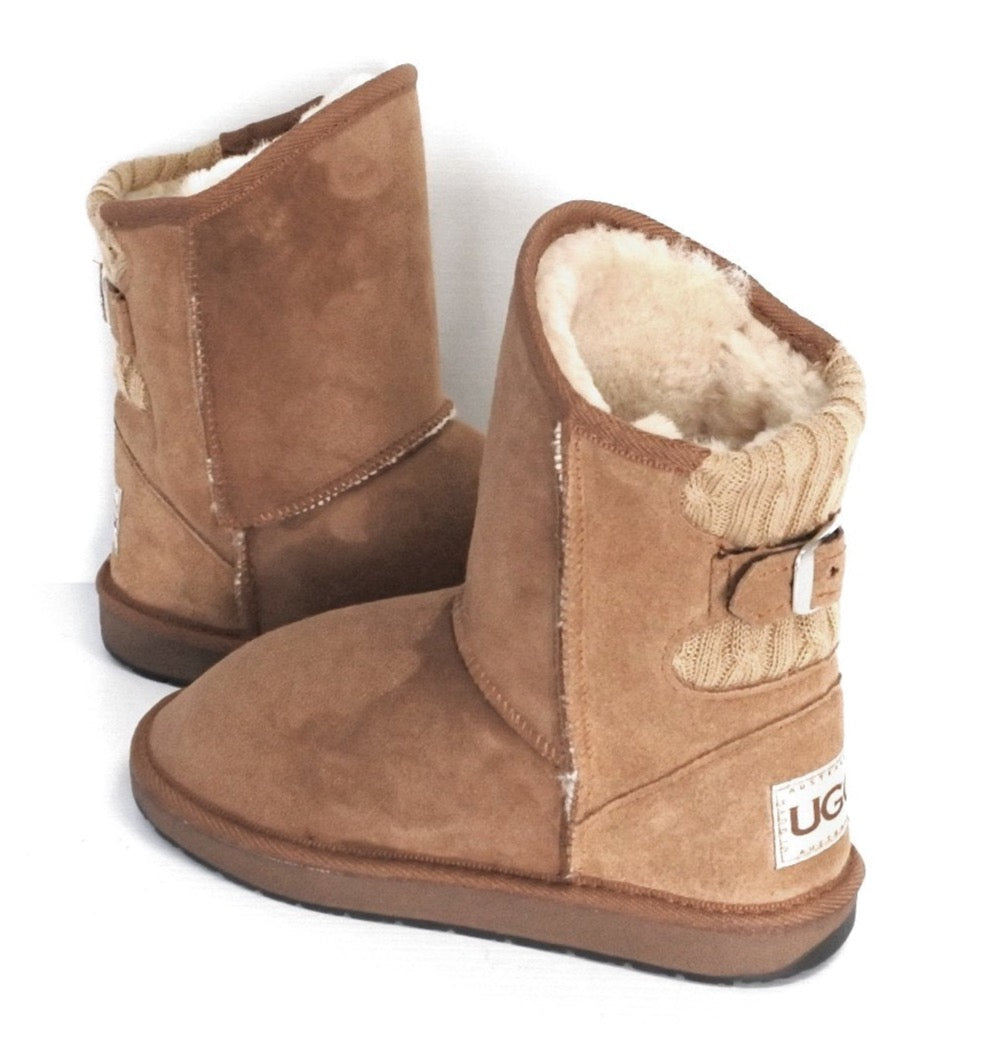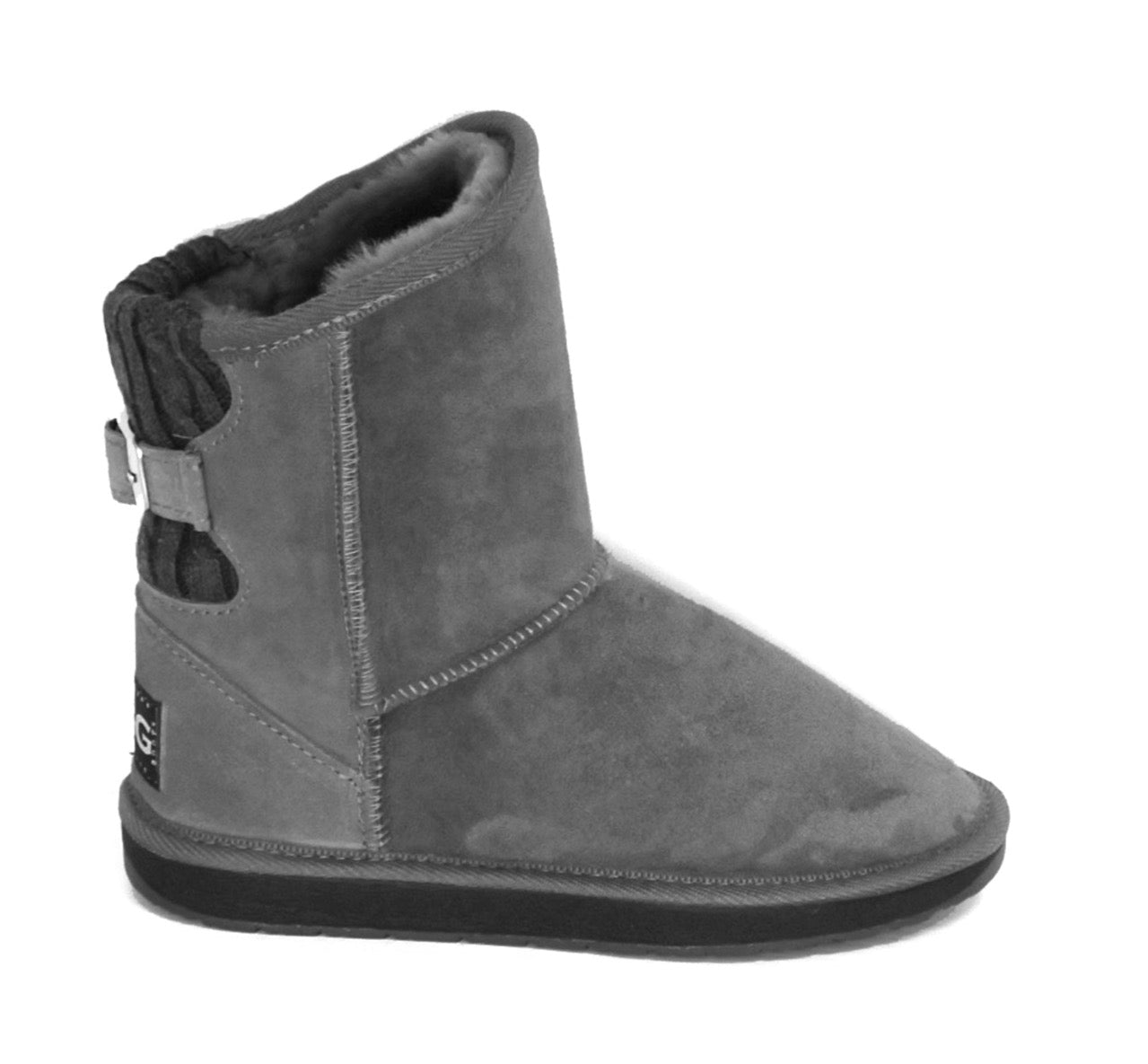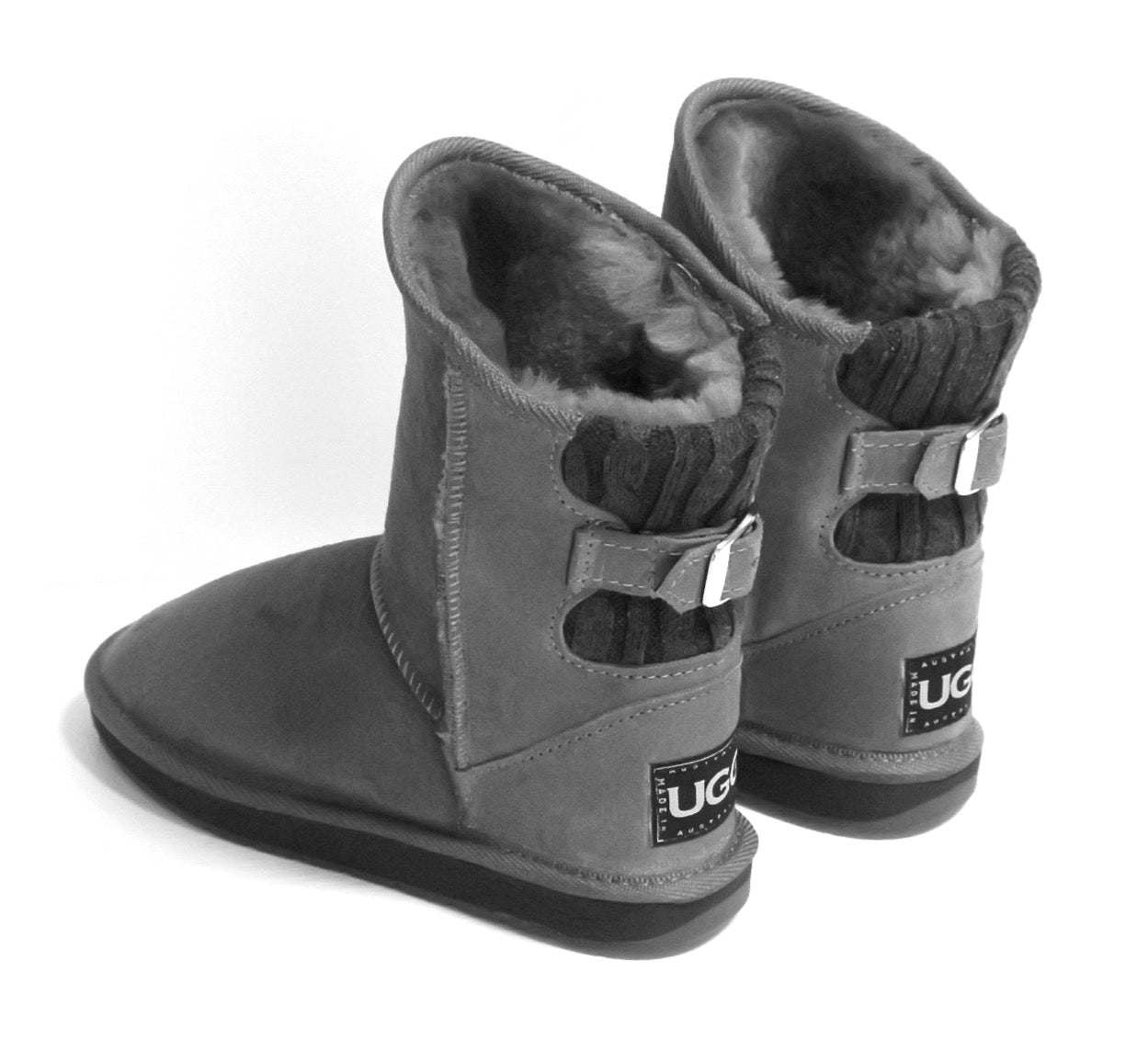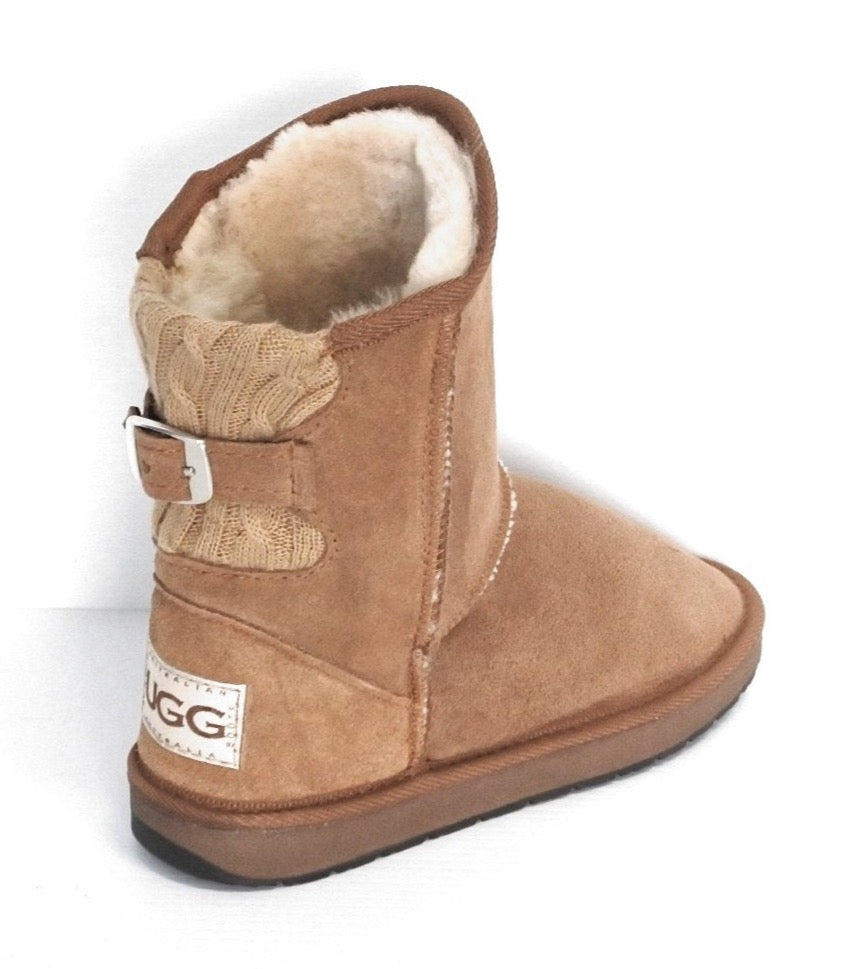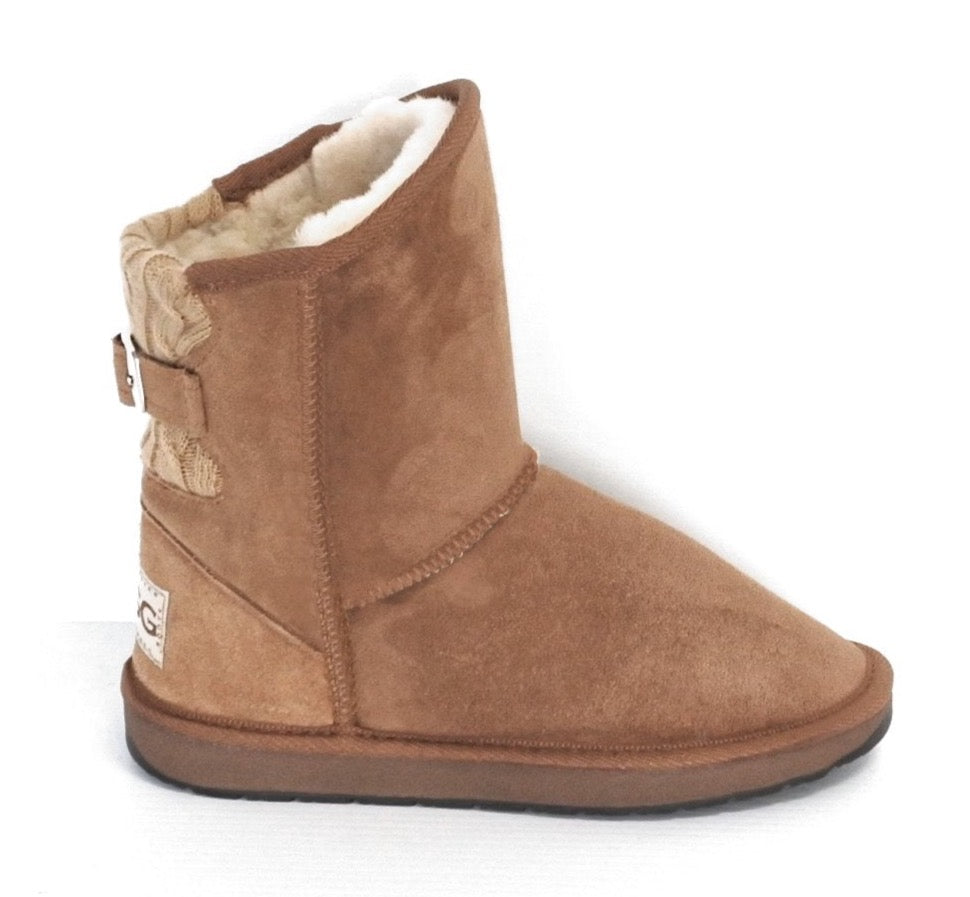 WOMEN'S JERSEY BOOTS
---
This cable knit boot is one of our favourites! The front part of the Jersey boot sits at around 22.5cm from ground up; the back at around 18cm. The back area features cable knit material with a stylish buckle and leather fastener.

Made In: Melbourne, Australia

Made from: 100% double faced sheepskin; individually hand-picked.

Knit Fabric: 100 % Polyester; Cotton Feel Matt

Made By: Australian Ugg Boots Pty Ltd

Eco Friendly: Yes

Sole: Rubber outsole layer – Midsole Phylon (lightweight moulded EVA)

Height: Front Part is Approximately 22.5 cm from ground up and back area is approximately 18 cm from ground up.

Position: Just below the calf area

Use: Indoor / Outdoor

Worn: With or without socks

Sizes: 4 to 9

Colours: Black, Chestnut, Chocolate, Grey (we can custom make other colours – drop us an email)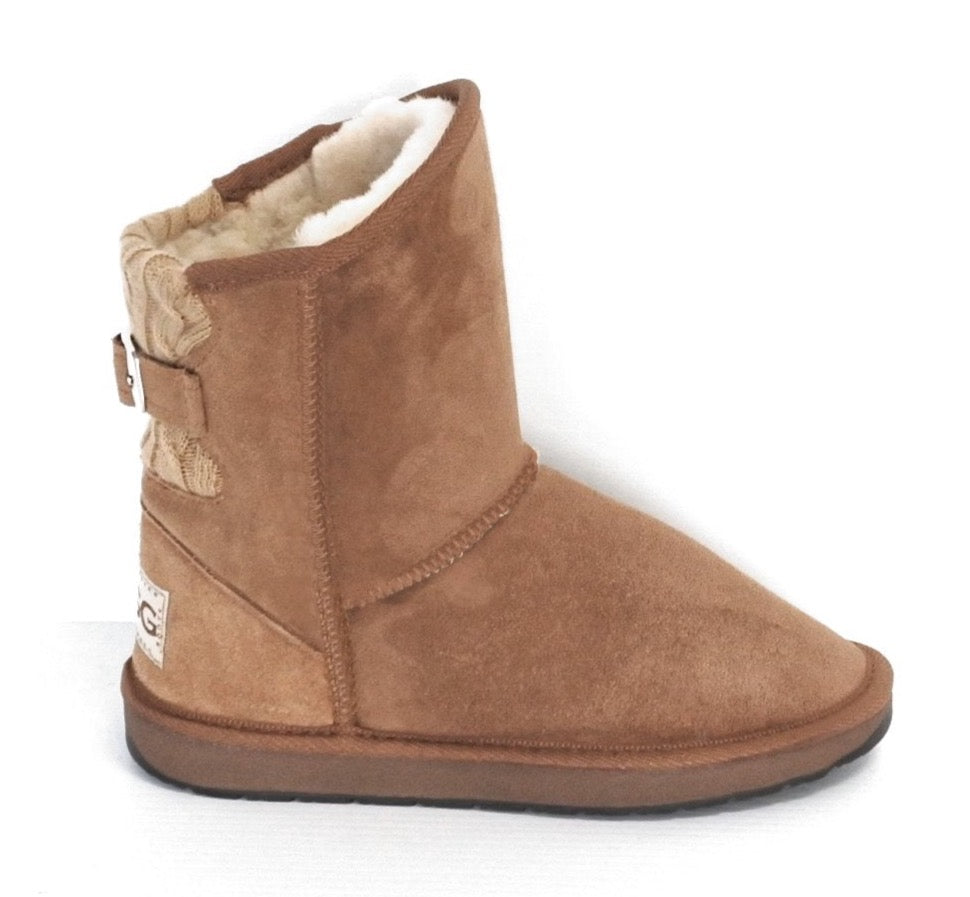 This product is rated 5.0 of 5.0 stars.
It has received 1 review.
Lovely short boots
These boots are a lovely colour and work well, as I hoped, with track suits pants I bought this year. The design is also very smart so I expect that I will buy more.
Thanks so much for your kind review of Australian Ugg Boots. We are so glad you are happy with the colour and fit of your boots and we look forward to welcoming you back in the future.
FAQ's
Some of our most asked questions. Click here to read more.
What Size Should I select?

You should follow our sizing chart to ensure correct sizing. For best results take a barefoot measurement from heel to largest toe and compare to our size chart. You can find help for how to measure your feet here: colours-sizes.
If this method is impossible, for example if you are purchasing a surprise gift, then we recommend you take the usual size. If you are in between sizes, we would encourage you to take the size up. For example if you are normally a Ladies 6.5, we would recommend purchasing a Ladies 7. Your barefoot measurement in this instance would be between 23.6 cm to 24.5 cm.
When creating sizes and designing patterns, we have already taken into consideration the density of the wool. If you are not sure, you are always welcome to contact us for assistance.
Do Sheepskin Boots stretch?

Sheepskin boots will stretch wherever there is pressure around your feet and legs. Generally we see sheepskin boots stretch up to half a size.
Unless you prefer a loose fitting, your new sheepskin boots should be very snug. Your toes however should not be curling or hurting. The snugness should be felt over the bridge of your feet.
Your heel should be firmly in place without moving up and down.
What style is more suitable for wider calves?

For wide calves, we recommend measuring your calf area before your purchase. If this exceeds 38cm you should reconsider purchasing anything above the calf area. The exception to this depending on your measurement is our Tall dance and Nordic. These have the ability to widen due to their laces, and therefore, give more flexibility.
The Tall Dance will be our best recommendation for people with wider calves, if you are looking to purchase something above the mid-calf area.
Do you custom make Boots?

Yes, we do and we love doing it.
So if you want us to make you a special, one of a kind pair of Sheepskin Boots, contact us tell us what you are after, and we will make the impossible, possible.
We will also custom make sheepskin products and boots to match the needs of our community. Sheepskin Boots are not just a fashion statement and are not just a product that keeps you warm and cosy in the cold days. In fact sheepskin products have been used for generations in hospitals as underlays, wheelchairs, prams and strollers and one of the great benefits has been on people suffering from poor circulation.
We have custom made slippers and boots for people with disabilities. There is never a job too big for us. If you have the patience, we have the will. Drop in to our factory or contact us and chat with us about your needs – we may be able to help.